Sticklers introduces three new fibre cleaning tools
Cleaning specialist MicroCare Europe has expanded its Sticklers fibre cleaning portfolio with the introduction of three new tools and cleaners. The latest additions include a compact end-face cleaning tool; a lint-free wipe that cleans duplex connectors with one pass; and a new package size for the existing 'Fiber Optic Splice & Connector Cleaning Fluid'.
CleanClicker 400 is a miniaturized end-face cleaning tool which delivers 400 cleanings per unit. Its small size allows for cleaning in tight spaces and the high-purity cleaning ribbon cleans with a single click, making it possible to clean 400 connectors from just one tool. Engineered for all of the normal 1.25mm end-face configurations, it cleans LC, MU, ODC, ARINC801, NECON and hardened connectors.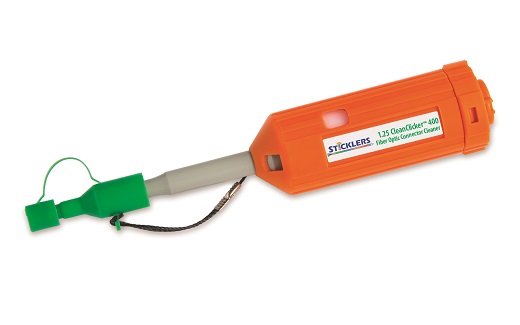 The lint-free wipe, named Clean Wipes 640 – is a package of high-purity, strong wipes which can remove electrically-dissipative materials used in the construction of the package eliminate static and improve cleaning results – such as fingerprints, oil, polishing compounds, dust and lint.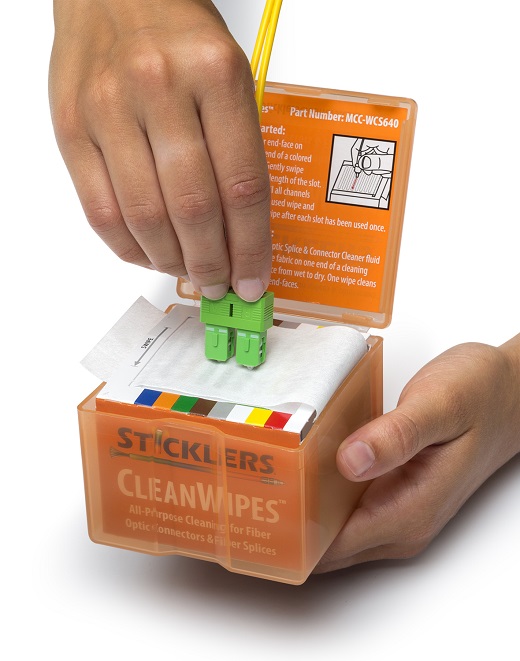 Finally, the cleaner fluid is now packaged in a 10-ounce canister, specifically for fibre optic connectors and for use during fusion splicing. The larger bottle contains more than 2,200 cleanings with the aim of helping clients save money.