R&M adds fibre optic cabling to its maritime range
R&M, the Swiss provider of network cabling infrastructure, has extended its product range for high-speed data networks on seagoing vessels to include fibre-optic cabling and Cat. 6A RJ45 systems. These new product lines enable data transmission over 10 Gigabit Ethernet to provide high-speed connectivity on board ships and offshore platforms.
Just like networks in office blocks, data centres and factories, on-ship data networks must be able to handle an ever-increasing amount of data traffic. On-board networks handle numerous applications, not just communications, but also infotainment and TV, high-speed internet and wireless LAN, video surveillance, warning systems, sensors and ship automation.
R&M's copper cabling for ships is also supplies power to end devices via Power over Ethernet (PoE) technology, which brings an electrical output of 90/100W to supply antennas, cameras, displays and security systems without the need for additional electrical cabling. This reduces weight, the space required and installation time.
"There are few settings as demanding for the operation of Ethernet/IP data networks as seagoing vessels and off-shore equipment," said Hermann Christen, market development manager at R&M. "Ferries, cargo ships and cruise liners are virtually always on the move. They travel through all climate zones and are exposed to salty sea air. That means harsh conditions for connectors, connection modules, cables and distributors. They have to withstand vibrations, impact, frequent changes of temperature, damp and aggressive environments, and powerful electromagnetic fields."
All R&M components for in-ship data networks have passed the testing and certification procedure set by DNV-GL (DanskeNorskeVeritas - Germanischer Lloyd), which proves they are suitable for use at sea. This enables maritime data channel to be created that consist entirely of certified R&M components. Quality over the entire value-added chain, from components right through to commissioning via its approved installers, is of paramount importance to R&M. Final measurements are always examined by R&M, the company says.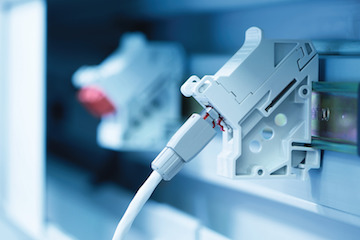 R&M also emphasizes the functionality of the modularly designed cabling system, which allows copper and fibre-optic cabling to be installed together. Connectors can be pre-terminated or field terminable in both copper (FM45) and fibre-optic (FO Field) versions to provide more flexibility. This means ship chandlers can select individual cabling paths during installation. The system modularity allows networks to be extended, retrofitted and adapted as well as maintained easily. R&M's goal is for installations in passenger cabins to provide the same convenience as customers might expect in hotels, offices and smart homes.
R&M and its approved installers provide shipyards and suppliers not only with connection and distributor systems, but also with expertise and design skills. If the need arises, R&M will work together with shipyards, designers, planners and system integrators to develop specific infrastructures tailored to their specific requirements.