Keely Portway looks at what the current semiconductor shortage could mean for telecoms in 2022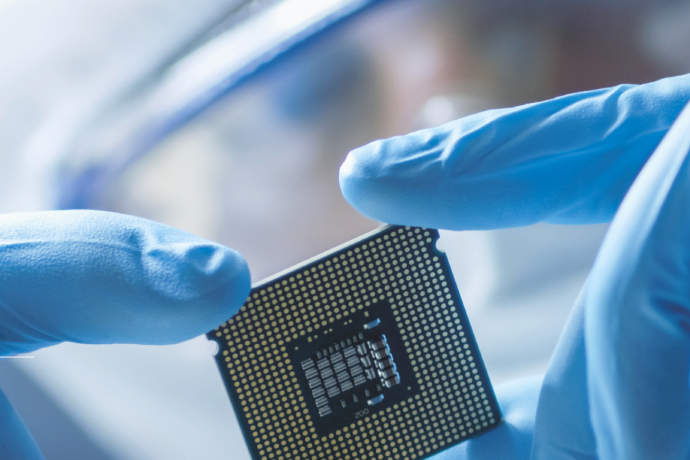 Image credit: Gorodenkoff/shutterstock.com
The ongoing semiconductor shortage has been hitting almost as many headlines in the past two years as the pandemic. However, contrary to popular belief, the Covid crisis was not the cause or starting point for this problem. 
The move towards the rise of 5G and beyond was a driver for increased demand for chips, coupled with trade disputes between the west and China resulting in the US banning the sale of semiconductors and other technology to Huawei. This meant that chip makers outside the US became overrun with orders from the company. 
Since the pandemic, this has become exacerbated and headlines have been dominated by various consumer products and industries that have been impacted. Most people remember the clamour to buy the few available Sony Playstation 5 consoles that were available following the launch in time for Christmas 2020. Likewise, it has been well documented that the automobile industry has suffered, with new cars taking longer to launch and a greater demand for used vehicles. The move to flexible working and learning has additionally driven an increase in the purchase of laptops and other consumer electronics containing these chips. But what about the impact on the telecoms sector – which, as well as having kept the world connected in the time of Covid is also currently in the process of rolling out 5G, deploying cloud network functionality, cloud services and connecting volumes of IoT devices that previously did not have connectivity or require sophisticated integrated circuits? 
Rollout delays 
U.S. provider AT&T admitted in August 2021 that it would likely experience delays to its ambitious fibre rollout programme due to shortages in global semiconductors impacting component and fibre production. 
Pascal Desroches, senior executive vice president and chief financial officer at AT&T spoke at the Oppenheimer Technology, Internet & Communications Conference, where he provided an update to shareholders. He said: 'Since the start of the third quarter, we are seeing dislocation across the board, including in fibre supply. And, as a result of those dislocations, we had previously provided guidance of three million homes passed this year. We're probably going to come in a little bit in light of that, probably around two-and-a-half million.' 
On a positive note, Desroches said that in most cases AT&T has long-term supply agreements that provide for priority access and committed pricing for materials and equipment. 'We have a preferred place in the supply chain, and we also have committed pricing,' he said. 'So up through the second quarter, we hadn't really experienced any impact from the supply chain disruptions that are happening across the industry. We don't think [the supply chain issue] is going to impact us long-term. But I think it's a really important context because if we're feeling the pain of this, I can only imagine what others in the industry are experiencing.' 
In addition, Desroches explained, working closely with the broader fibre ecosystem to address the short-term dislocation has allowed AT&T a 'better line of sight' in its ability to ramp up fibre deployment activities in the coming quarters and he is confident the company will achieve its target of 30 million customer locations passed by the end of 2025. But AT&T is not the only provider feeling the impact. According to Bloomberg's sources, broadband providers have been seeing delays of more than a year when ordering internet routers, with some carriers having been quoted order times as long as 60 weeks, more than doubling previous waits. 
So, what can we expect going forward? The latest predictions on the topic from market research firm, Gartner, pointed to the worldwide semiconductor shortage persisting through 2021, with an expected recovery to normal levels by the second quarter of 2022. 
What next? 
Kanishka Chauhan, principal research analyst at the company, said: 'The semiconductor shortage will severely disrupt the supply chain and will constrain the production of many electronic equipment types in 2021. Foundries are increasing wafer prices, and in turn, chip companies are increasing device prices.' 
A recent report from UK-based telecoms research firm STL Partners, meanwhile estimates that the situation will continue in the production chain into 2022 and even 2023 until foundry capacity, substrates and component demand softens out. 
Semiconductor chip production, said STL Partners in its report What does the semiconductor shortage mean for telecoms? requires large investments in R&D and building fabrication plants, specialist knowledge and intellectual property, as well as specialist manufacturing equipment and raw materials. We all know only too well that as well as a chip shortage, there is also an industry-wide skills shortage. However, added the firm, much of the supply constraint is more pronounced on specific manufacturing nodes where there is demand from multiple sectors including telecoms, but also electronics and autos, with further potential shortages across all these sectors should demand continue to exceed supply. 
The report highlighted that, up until now, many sectors including telecoms have been able to shelter themselves from shortages by advance ordering and stockpiling. It cited figures from the Susquehanna Financial Group's ongoing trend research on the lead time between ordering a chip and taking delivery to illustrate the extent of the supply situation, where in July 2021 the lead time increased to 20.2 weeks, up from 17 weeks in April. 
Long lead times 
The Susquehanna report, said STL Partners, points particularly to the increase by four weeks in April (to 23.7 weeks) for power management integrated circuits (PMICs) which regulate power to devices and various telecoms equipment. In addition, the firm explained that both the Susquehanna and Bloomberg analysis suggest the increasing lead time gap is an indicator of buyers committing to future supply orders in order to avoid shortages down the line, but that evidence of stockpiling and over ordering which further exacerbates the situation – as we have seen reflected with many commodities throughout the pandemic, from toilet paper to petrol. 
The STL Partners report highlighted that semiconductor producers include fabless companies, such as Qualcomm, Broadcom, NVIDIA, AMD, which mainly innovate and design semiconductor chips and outsource manufacturing production to foundries such as TSMC, Samsung and SMIC. Integrated device manufacturers (IDMs), meanwhile, like Intel, Infineon and Samsung design and manufacture their own chips. Samsung is an IDM but also operates a foundry business, although Intel is now entering the foundry business with investments announced in the US. Some semiconductor companies are also 'fab-lite' and so produce some but not all their own semiconductors and rely on foundries. The final production stage of assembly and test can be carried out by the foundry or by outsourced semiconductor assembly and test vendors. 
In terms of market share, the report put TSMC at 54 per cent, with reported revenues of $12.9bn in Q1 2021, citing figures from intelligence provider, TrendForce. Of TSMC 2020 revenues, 3 per cent came from automotive chips, and 48 per cent came from smartphones, with 8 per cent from IoT and 33 per cent from high performance computing (HPC) chips (CPUs GPUs, NPUs, AI accelerators for PCs, tablets, game consoles, servers, and base stations). The company acknowledged the shortage situation in its Q2 2021 analyst call, putting the challenges down to a structural increase in long-term market demand as well as the short-term imbalances in the supply chain caused by the pandemic and geopolitical tensions. While the foundry does rule out an inventory correction in future, the CEO confirmed that he expected capacity to remain tight throughout this year and extend at least into 2022. 
STL Partners said that global shipping also continues to be an issue thanks to fears over a shortage leading to over ordering. This then contributes to container shortages (as containers are used for temporary storage). This, combined with staff furloughing, has created bottlenecks across global supply chains. The fear of shortages itself, said the report, then became a 'self-fulfilling prophecy' as companies over ordered and stockpiled inventory to ensure supplies.