Cable television network operators are readying themselves for customers to pull fibre deeper into their networks, finds Andy Extance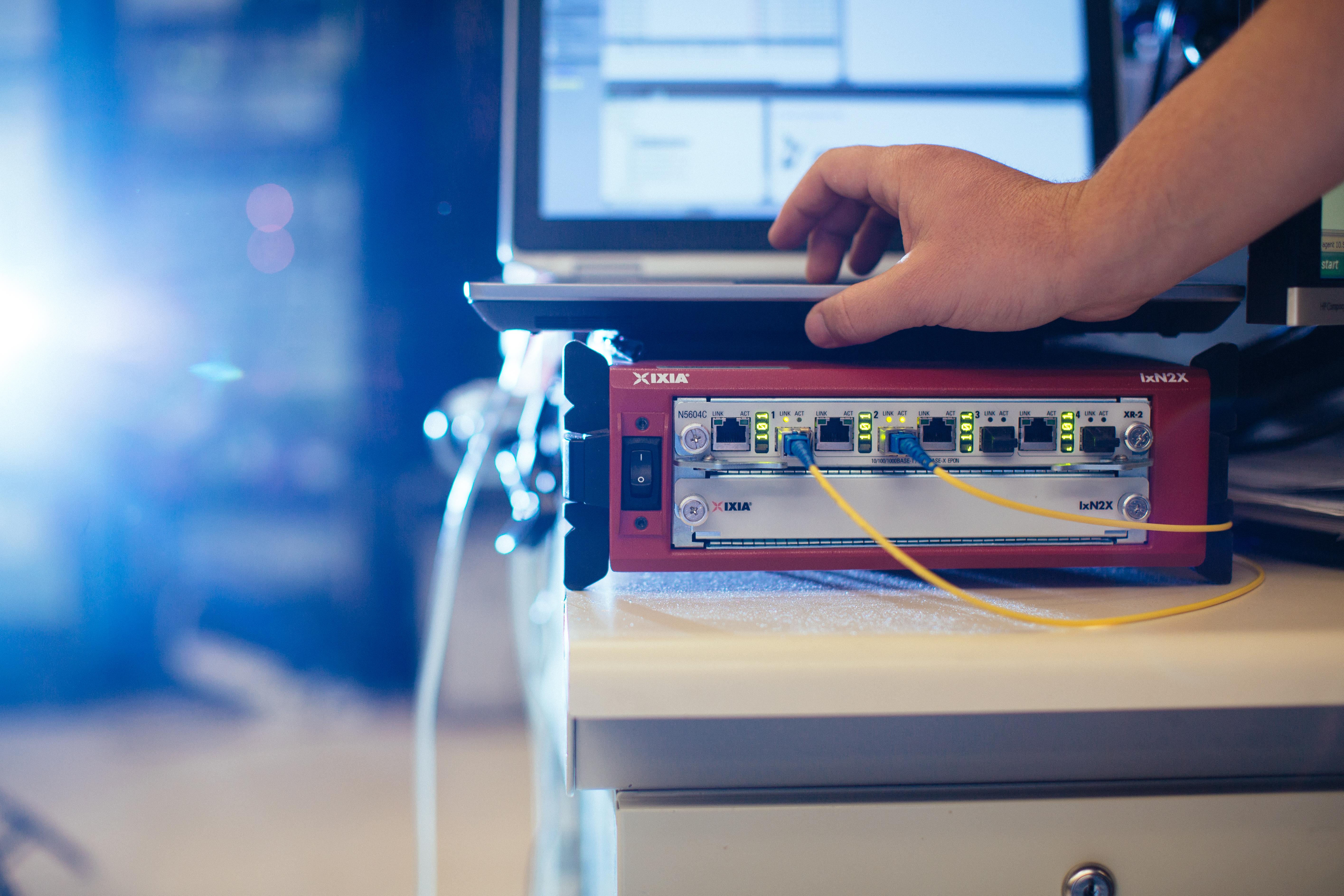 Image credit: CableLabs
The unique challenges brought by the pandemic and modern technology are driving significant and varied changes worldwide in how cable television network operators use technology. 
Most commonly these companies are multiple system operators (MSOs) that offer a combination of traditional cable, fibre-based and mobile networks, notes CommScope's Cornel Ciocirlan. In Europe, for example, MSOs are planning data over cable service system specification (Docsis) 4.0 deployments in the next few years. Meanwhile telephone companies are making massive investments in fibre-to-the-home (FTTH), due to the 'perfect storm' of factors that have come into play. 
 
The pandemic has increased consumer bandwidth demand, underlines Ciocirlan, chief technology officer for Europe, the Middle East and Africa, and vice president for global telecommunications market management at CommScope. The capacity to upgrade legacy twisted copper pair-based networks is running out, while private and government funding are increasing. 'A once-in-a-generation network rebuild and refresh effort is starting now and will accelerate in the next few years,' explained Ciocirlan. 
 
'Given the practically unlimited capacity of fibre cable, the rollout of FTTH and passive optical networks (PON) will represent the majority of the investment in new build. MSOs operating HFC networks will stay competitive through the rollout of fibre-deep architectures and Docsis 4.0.' 
 
Working together 
Differences in network operators' status means that platforms emerging could be more bespoke than before. However, not-for-profit research and development lab CableLabs is working to ensure interoperability in the emerging technologies. Adopting software-based networking approaches already exploited in hyperscale data centres could enable enough flexibility for solutions to support the uniqueness of each operator's network. 
 
Although many homes are still served by 'legacy technologies that top out at hundreds of megabits not gigabits', this is good enough for most current mass market applications, according to Ciocirlan. To move beyond this, he noted that CommScope has been working with its cable MSO customers for many years to prepare their networks for the rollout of Docsis 3.1. For example, in the UK the company's Docsis 3.1 system, underpinned by its E6000 converged cable access platform (CCAP) enabled MSO Virgin Media to deliver gigabit home broadband.
 
'Some of our customers have already deployed significant capacity upgrades to enable gigabit and multigigabit operation,' in the 2 to 4Gb/s range, Ciocirlan said. 'CommScope is also working to prepare cable networks for future speed upgrades up to 10Gb/s and beyond, using emerging Docsis 4.0 technologies such as full duplex and extended spectrum Docsis.' That will become necessary as interactive augmented and virtual reality, 360⁰ immersive experiences using ultra-high definition video with 8K or higher resolution and cloud gaming, become common, Ciocirlan predicts. As such, he believes that the question is when, not if, multigigabit services will be required. 
 
Coherent challenges 
The US situation is different, notes Hossam Salib, vice-president of business development at networking equipment supplier Adtran. With communication giants Google and AT&T both deploying FTTH more slowly than anticipated, pressure on cable companies to provide fibre gigabit services has reduced, he explained. This has consequences for equipment demand, with need for very large backhaul capacity emerging more slowly. HFC cable network operators can supply their customers with up to 10Gb/s downstream services using Docsis 3.1. 
 
Alternatively they could use Ethernet PON (EPON), which predominates over other PON formats in the US. 'You can use 10Gb/s EPON or 10Gb/s Docsis and backhaul with traditional optics,' he stressed. That will change when operators deploy a very large number of 10Gb/s nodes, necessitating alternative backhaul approaches, including coherent optics. 
 
Each major MSO makes its decisions based on its network's characteristics, Salib said. US operator, Comcast has 'a fairly decent coax network in dense areas that tends to be easily upgradeable', he said. That kind of network would likely 'not jump on PON in a big way, but focus more on Docsis.' 
 
By contrast, Charter Communications has an older coax network, to which it is 'more difficult to add new Docsis technologies,' Salib continued. 'It makes more sense to deploy more fibre-based gigabit technologies.' 
 
Docsis over HFC networks remains the primary focus for most cable operators, explained Matt Schmitt, principal architect at CableLabs. Yet PON technology is an important component of cable operators' future solutions. It will involve both remote optical line terminals (OLTs) as part of distributed access architectures (DAAs), and hub-based PON technology. PON deployments today predominantly use 10G-EPON and its European equivalent XGS-PON, which offers symmetrical 10Gb/s bandwidths. Yet components to demonstrate 25G-EPON already exist and 'capacity requirements for aggregation of DAA edge devices will also drive the need for coherent optics technologies,' said Schmitt.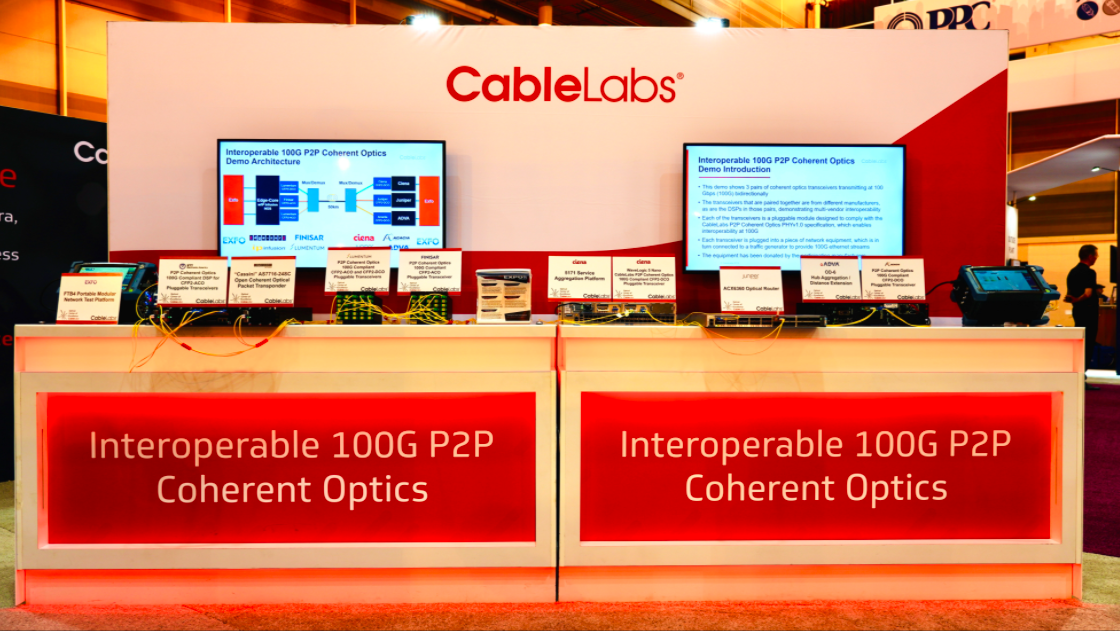 Image credit: Dr. Steve Jia. distinguished technologist at CableLabs
 
Higher and higher 
DAA technologies move radio frequency (RF) generation and reception deeper into networks, and use high-speed Ethernet connections over fibre back to a hub or headend facility, explained Schmitt. Currently, they use multiple 10Gb/s links that share a single fibre or fibre pair using dense wavelength division multiplexing (DWDM) technology, explained Schmitt. But CableLabs has been working on developing higher capacity coherent technology for the future higher-bandwidth scenario. 
 
The approach currently lacks a critical enabling component called a coherent termination device (CTD). Existing network switches and routers that support coherent transceivers that could serve as a CTD were not designed to operate outdoors in a weather hardened enclosure. Schmitt revealed that such devices 'will be available sometime this year or next'. 
 
Attempts to field test devices for coherent technology have also been hampered by the pandemic. CableLabs has therefore built a coherent optics convergence lab ʻto demonstrate how multiple different technologies, such as cable broadband and mobile technologies, can share the same fibre distribution network.' 
 
To further enable adoption of coherent optics, CableLabs has continued to investigate ways to make it more cost-effective and easier to deploy. 'For example, we developed the concept of full duplex coherent optics,' Schmitt explained. This enables bi-directional communications between two coherent optics transceivers using the same transmit and receive wavelength over a single fibre, rather than a fibre pair. 'This effectively doubles the capacity of the fibre, but more importantly allows cable operators to deploy coherent optics technology, where they have only a single fibre available, without using higher cost dual-laser transceivers,' added Schmitt.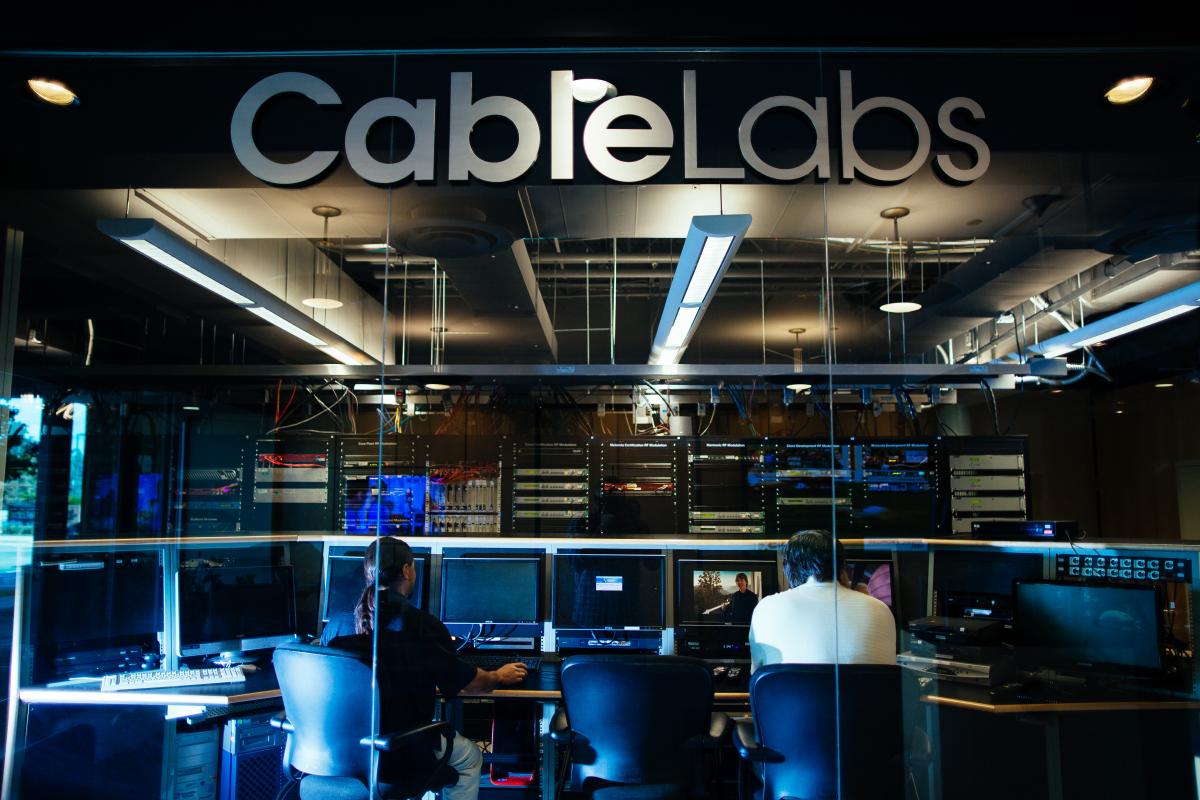 Image credit: CableLabs
 
Capable solutions 
With a working group, CableLabs has developed two interoperable two physical layer (PHY) specifications for point-to-point (P2P) coherent optical transceivers. PHYv1.0 and PHYv2.0 specify operation at 100 and 200Gb/s per wavelength respectively. CableLabs has also been encouraging development of interoperable solutions in testing events at its labs and industry demonstrations. One event was at the Society of Cable Telecommunications Engineers/International Society of Broadband Experts SCTE/ISCB Expo in 2019. 
 
'We were able to demonstrate interoperability between six different coherent transceivers from five different companies that are compliant to the CableLabs PHYv1.0 specification, sharing a single fibre pair simultaneously,' Schmitt said. 'That's three pairs of coherent transceivers, each transmitting at 100 Gb/s per wavelength, for a total of 300Gb/s on a single fibre. And that's just a fraction of what this technology is capable of.' 
 
Tom Williams is vice president of marketing at Acacia Communications, one company set to provide coherent optics equipment for cable network applications. 'As fibre gets deeper into cable networks, the reliance on specific radio frequency protocols unique to the cable industry shifts to standard 10Gb/s Ethernet traffic,' he highlighted. 'You have multiple of these 10Gb/s Ethernet signals that are all coming to an aggregation point that was previously where you would convert from optical to RF. Now that hub node is becoming an aggregation point. It's an opportunity to do an aggregation into a higher data rate, 100 or 200Gb/s coherent signal. Our solution fits in from that aggregation point to the head end in the cable network.' 
 
Acacia offers three products for connecting access networks in this way, which could include multi-gigabit cable services. The first is a QSFPDD form factor coherent 100Gb/s pluggable single wavelength transceiver. 
 
The second is a similar 100Gb/s pluggable transceiver that is tuneable, designed for dense wavelength division multiplexing. The final product is a 100Gb/s coherent pluggable CFP2- DCO form factor bi-directional product similar to that described by Schmitt, transmitting and receiving on a single fibre. So far the company has mainly been working with MSOs in their labs to show how to use these products, but Williams sees great promise. 
 
'We see an opportunity similar to what happened with coherent in longer reach transport networks,' he said. 'When people really got their hands on the technology, they realised how much simpler it was, operationally. We think that'll play out in the access networks as well.' Williams emphasised that at the network endpoints involved in these applications, volumes are large, and cost is always critical. 'There's a decision to be made,' he said, 'about whether you push the existing technology just a little bit further, or whether now's the time to roll over to a new technology. 'We see the coherent solution as providing you with the ability to not just meet your needs in this generation, but also be positioned for additional growth going forward. But if you only need another 25Gb/s, then maybe there's a cost effective way to do that. I think of coherent being aligned with some of the other architectural changes. If you're deploying fibre and a network, then it makes sense to go to the new technology. If you're just adding a leg incrementally, then it's usually going to be costeffective to stay with the existing technology.' 
 
Unleashing innovation 
However, increased need for bandwidth arising from the pandemic, has boosted demand for newer technologies, said Adtran's Salib. 'Passive optical networks are happening a lot faster,' he said, 'and the trend is happening all over the world.' 
 
When we spoke to him, he was in Egypt expanding Adtran's business in the region and setting up a joint manufacturing programme between the Arab Organization for Industrialization and Adtran. 'It's not one of the top rich countries in the world, but they have a huge programme for PON technology,' Salib emphasised. 
 
That trend has seen Adtran win supply deals for major telecoms companies, including BT/ Openreach for its SDX OLT product, which serves both GPON and XGS PON. 'Delivering 10Gb/s symmetric to a node or a location really allows the carrier huge flexibility in selling a 1Gb/s symmetric to the home, which is unique, or to businesses,' Salib says. 'It avoids expensive point-to-point Ethernet that used to be required in the past.' 
 
Adtran has also introduced Combo PON modules that support both GPON and XGSPON on the same optical distribution network. Combo PON is rolling out on Adtran's TA5000 fibre access platform and its latest SDX series. Adtran's biggest supply deals rely on softwarisation approaches such as network function virtualisation (NFV) and software defined networks (SDN), which Salib believes play 'a huge role'. 
 
'They facilitate the access network to behave more like a more modern, easily upgradable, easily managed, easily growing network like Google and Amazon's data centres,' he said. 'I can use any vendor in the OLT or aggregation switch and upgrade the software and new features rapidly and easily.' 
 
Such capabilities become especially important thanks to a growing consensus that reducing latency is a higher priority than bandwidth, according to CommScope's Ciocirlan. 
 
The company has therefore optimised the data-plane level of its systems that carry user traffic. This allows 'operators to lower data plane latency for key applications, while offloading the control and video plane processing – where latency is less of a priority – to virtualised, cloud-based platforms', according to Ciocirlan. With volumes of PON components being deployed increasing and costs falling, Ciocirlan predicts that this technology will soon dominate MSO networks. 
 
'These technologies, especially when combined with efforts to lower data plane latency, will spur consumer adoption of multigigabit services and unleash a new cycle of innovation across the industry,' he said.
 
Andy Extance is a freelance science writer based in Exeter, UK