Keely Portway takes a look at fibre deployments in the North America region and whether they are shaping up not just to meet targets, but to provide connectivity to all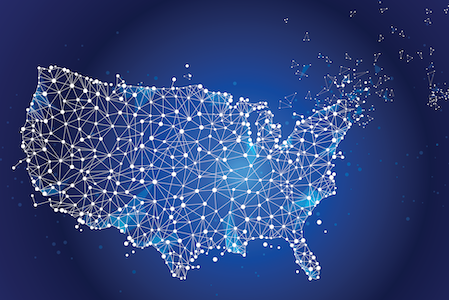 Image credit: bookzv/Shutterstock.com
It's fair to say that all over the world, reliable connectivity has never been more important. Many markets are now not too far away from the ambitious targets set by governments for FTTH deployment; this comes amidst a wave of investment in bridging connectivity gaps.
U.S. President Joe Biden's broadband plan was passed by the House of Representatives at the end of last year as part of the $1.2trn Infrastructure Investment and Jobs Act. The Bipartisan Infrastructure Deal is designed to deliver $65bn to help ensure that every American has access to reliable high-speed internet, through investment in broadband infrastructure deployment. The legislation will also help lower prices for internet service and help more Americans afford internet access.
Commenting at the signing of the Act itself, President Biden said: 'As we saw with remote learning, remote working during the pandemic, access to high-speed internet is as essential as access to water and electricity. This law is going to make high-speed internet affordable and available everywhere in America - urban, suburban, rural – and create jobs laying down those broadband lines.'
This is a welcome move, as Debbie Kish, VP of research and marketing at the Fiber Broadband Association (FBA), explained – but there is always more that can be done. 'There is no question that high-speed internet access is a must,' she said, 'but there has been very little in terms of advancement in defining what "high-speed" is (currently the FCC defines high-speed as 25Mb/s upstream and 3Mb/s downstream). However, more recently, as part of the new U.S. Administration's Infrastructure Bill, there has been discussion about a bump-up in that, being 100Mb/s upstream and 20 down, but that is still not enough.'
Kish cited today's 'at home' workforce and increased use of bandwidth heavy applications to illustrate that even 100/20 isn't close to what is necessary to be functioning and productive. 'Then there is the "how can reliable high-speed broadband be delivered" discussion,' she said. 'Is it through hybrid coax cable? No. Is it through fixed wireless access? No. Is it via satellite? No. Is it fibre? Yes, because only fibre can deliver symmetrical gigabit speeds, is future-proof, less costly in the long term, carries with it proven additional economical long-term benefits and consistently wins in high consumer satisfaction across multiple factors.'
Investment opportunities
Alongside governmental plans to boost investment in broadband, there has been a wave of investment in fibre as highlighted by the most recent study from the FBA. The 2021 Fiber Provider Study revealed that fibre broadband is entering the largest investment cycle ever. This research, carried out by RVA LLC Market Research & Consulting (RVA)on behalf of the association, pointed to the fact that fibre broadband now passes more than 60.5 million homes in the U.S. alone, demonstrating 12 per cent growth in 2021.
The increase in deployments, according to the report, was driven because fibre continues to score more highly than any other broadband technology in terms of capacity, reliability, latency and customer satisfaction. These benefits have created competition among the increasingly diverse sizes and types of service providers racing to reach more subscribers with fibre. The report noted that if all federal infrastructure funding is directed at fibre, there could be more deployed in the next five years than the current total, allowing the initial U.S. FTTH build to near completion by the end of this decade.
Gary Bolton, president and CEO at the FBA said: 'When every community can leverage fibre optics for its critical infrastructure, we'll open endless possibilities for prosperity. The private sector is increasing its understanding of the importance of fibre and government efforts to close the digital divide have never been greater. This momentum is exciting and sets the stage for our industry to finally deliver digital equity to everyone regardless of where they live, work or play.'
The study revealed that 43 per cent of U.S. households and 60 per cent of Canadian households now have access to fibre. The larger, tier 1 providers such as AT&T, Verizon, Lumen and the top five cable MSOs have built nearly three-fourths (72 per cent) of overall fibre broadband access, with tier 2 regional operators like Windstream, Frontier Communications, Consolidated and TDS making up 10 per cent of the growth.
Network growth
Frontier Communications recently announced that it had added 45,000 fibre broadband customers in the fourth quarter of 2021 alone. Chief financial officer Scott Beasley, speaking at the Citi AppsEconomy Conference, said that it was the largest quarterly increase for the company to date. Indeed, this marks 50 per cent more than the company's prior record of 29,000 net additions in the third quarter of 2021.
Beasley also highlighted that broadband customer additions significantly outpaced copper broadband customer losses in the fourth quarter, with the result being a total increase of 9,000 broadband customers in the fourth quarter of 2021. This marked the first time in more than five years that the company has posted total broadband customer growth in a quarter. He also expressed that he expects to continue growing the total broadband customer base as the company's fibre build accelerates.
Interestingly, the report highlighted that there are more than 1,200 tier 3 market players with smaller projects ranging from a single state to three or four. These account for the other 17 to 18 per cent of the build which, it said, is unique to the U.S. These companies include a mix of rural telcos, private competitive carriers, rural electric companies, smaller cable companies and municipalities.
Expansion plans
A recent example of a more regional project came from Texas and Louisiana service provider Vexus Fiber, which has committed to build a FTTH network in Laredo, Texas, introducing more than 70,000 properties to multi-gigabit speed service.
The network will be privately funded by Vexus, which plans to begin construction in the summer, with availability to some neighbourhoods and businesses by the end of this year. Full completion of the entire network throughout Laredo will take approximately 24 months. The network extension is part of an ongoing construction plan financed by existing investors, Pamlico Capital and Oak Hill Capital, which have agreed to invest additional equity toward the expansion in Laredo.
Jim Gleason, CEO at Vexus explained: 'We are excited to continue our network expansion in Texas with our new 100 per cent fibre optic network plans in Laredo. Vexus' fibre network will provide homes and businesses with a new, competitive choice for internet and entertainment. This expansion brings reliable internet to families and businesses in the area, allowing them access to our future-proof fibre technology.'
However, as highlighted by Kish, there are still a number of challenges that the industry must overcome before it can complete FTTH builds within this decade. Supply chain and labour shortages, for example, were highlighted in the report as the greatest perceived concern of mid-size and small providers. The FBA recently welcomed several supply chain speakers on its Fiber for Breakfast series to offer guidance on how to navigate through the challenges. To address labour concerns, the Optical Telecom Installation Certification (OpTIC) programme was devised to design an expert fibre broadband curriculum, fill existing skills gaps and accelerate deployments across North America.
The skills gap
Kish delved into some of the reasons that labour and skills are among the biggest challenges faced globally by operators and service providers: 'Many are down entire crews and have to turn away jobs because they do not have the skilled workers in place. It unfortunately has led to the inability to bring reliable high-speed broadband to communities and close the digital divide.'  The FBA is working with community colleges and veterans programs and has a registered apprenticeship with the U.S. Department of Labor.
The report additionally highlighted the concern held by providers surrounding how to ensure that the vast majority of federal funding goes to fibre. The association has pledged to continue conducting research, providing evidence that investing federal money in non-fibre broadband is irresponsible when fibre-based broadband performance metrics measure the highest for download and upload speed, latency and reliability.
Additionally, the FBA is working with NTCA-The Rural Broadband Association to publish a Broadband Infrastructure Playbook advising State governments on best practices for leveraging infrastructure funding. The Playbook will outline the benefits of directing funds towards reliable future-proof fibre networks for consumers and communities, recommendations for structuring State broadband programs, templates for funding applications and more.
On whether there is enough fibre to connect everyone, Kish's response was: 'In a word, no. There exist unserved and underserved areas such as rural North America, as well as tribal areas that significantly lack access to broadband, resulting in lower productivity, lagging education, declining economic development opportunities and lack of access to healthcare resources. 'For example,' she continued, 'in rural areas of North Carolina, 33.5 per cent of households (43,000) do not have access to broadband speeds of 50/10Mb/s. Tribal lands are even worse off, with 628,000 Tribal households with no access to the internet according to the FCC. The pandemic set things back even farther when a deadline for native American communities to apply for free broadband licences helping them build local internet infrastructure had passed.'
So, how do we get there? Kish explained: 'In carpentry, the phrase "measure twice, cut once" means if you are going to build something, you don't want to waste time or resources. Similarly in finances and security – "an ounce of prevention is worth a pound of cure." When it comes to reliable high-speed broadband, the clear choice is fibre. So, let's break it down: fibre has unlimited capacity and can meet the growing demands from today's applications and those of the future. In fact, a joint group of researchers from the Netherlands and the US smashed the world speed record for a fibre network, pushing 255Tb/s down a single strand of glass fibre. The maths equates to 255,000,000Mb/s of broadband speed and can therefore carry all of the internet's traffic on a single fibre. Additionally, it is what consumers want. About 10 per cent of consumers will change their internet providers each year, with the majority of the moves being from DSL or Cable to FTTH when available. In terms of customer satisfaction in work from home environments, fibre earned the highest satisfaction rating.'
Plan ahead
Kish believes strategy, planning and time are key to building an economy: 'Part of the strategy is about future-proof, environmentally friendly and sustainable investments that will best serve and attract businesses and inhabitants to a community and create jobs.'
A great example of a well thought-out strategy and execution, continued Kish, is EPB, an electric power distribution and telecommunications company owned by the city of Chattanooga. 'A decade ago,' she explained, 'EPB decided to build an all-fibre network that served as the foundation for its smart grid, resulting in an economic value that exceeded $2.69bn and created more than 9,500 jobs.'
Kish also acknowledged that after factoring in capital costs, the initial sum required to install a fibre network is perceived to be more expensive. However, she pointed out that the operational costs of FTTH networks have proven to be less expensive in the long term. 'With no external equipment, components exposed to weather elements, accidental damage and other factors, fibre requires very little ongoing maintenance, translating to significantly less long-term cost - rendering FTTH a better investment over time.'
Kish concluded: 'In a post-pandemic environment, the new normal is work from home, relocation to rural areas and the need for reliable, symmetrical, high-speed broadband, which by definition only fibre can deliver. 'In other words: if it's not fibre, it's not broadband.'