18 April 2023
to
20 April 2023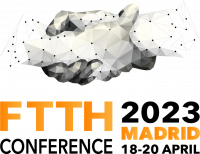 The FTTH Conference 2023 is the world's largest fibre summit. The next edition is planned for 18-20 April in Madrid, Spain.
Targeting 3000-4000 participants and 700+ senior executives from 1.000+ companies and over 100 countries, the FTTH Conference is unique in bringing together & 'C' level representatives, investors, technical and regulatory experts to discuss and debate all aspects of FTTH, 5G and other fibre related and enabled technologies and services and the benefit they bring to society.
With up to 28 expert workshops, 18 conference panel sessions and keynote speeches presented by over 100 leading 'C' level and expert speakers, plus two day exhibition with leading fibre technology vendors, the FTTH Conference 2023 will provide the participants with an unrivalled experience.
The FTTH Conference will meet physically in Madrid on 18-20 April 2023. This will be the opportunity to meet hundreds of delegates and 100+ exhibitors and partners, showcasing the latest fibre, FTTH products & solutions and introducing the latest industry trends.